Summer is the time to indulge your sweet side. But instead of going for the same, repetitive desserts, maybe it's time to try something new; something more conscious towards health and the environment. Thankfully, Los Angeles is a growing haven for vegan and gluten free confections. Here is a list of 5 satisfying sweet treats that'll keep you happy all summer. Vegan Desserts Los Angeles

1. Cinnaholic
Cinnaholic is one of the newest members of LA's ever-expanding vegan food scene. Opened in Echo Park, the gourmet bakery specializes in 100% vegan cinnamon rolls. Founded in Berkeley, California in 2009, Cinnaholic made an appearance on Shark Tank before expanding to several locations around the nation.
Cinna-holics can choose too add from 30 frosting flavors and 20 toppings, making each roll unique to each customer. Aside from cinnamon rolls, they also offer fudge brownies, chocolate chip cookies and cinnacakes (all are vegan as well.)
Cinnaholic is located at 2134 Sunset Blvd, Suite E in Echo Park
2. Donut Friend
Everyone like donuts. And in Highland Park, you can find some of the best around. Donut Friend has grown to be a staple of Northeast LA. Owner Mark Trombino created the shop with no culinary experience at all. From an interview he did with Eater, "The first [day it opened] was a Highland Park Art Walk. Actually, I was so scared of the whole thing that I just opened up and gave away donuts."
Offering a wide variety of completely vegan donuts, each has a musically inspired name. A set number of their specialty or limited edition donuts are made each day, so get there early if you want to give them a try.
Donut Friend is located at 5107 York Blvd in Highland Park
3. Kind Kreme
Serving from within Sage Organic Vegan Bistro, Kind Kreme specializes in raw, vegan and organic ice cream. Customers can choose from a variety of changing flavors, with the rotation of flavors depending on what is in season and available. A majority of flavors are coconut based, with others are almond milk or cashew based.
Kind Kreme can be found inside of Sage Bistro at 1700 W Sunset Blvd in Echo Park
4. Hugo's Tacos
It's difficult for vegans to find reliable Mexican food to eat. Hugo's Tacos in Atwater Village provides that and much more. Along with the standards of tacos, burritos and nachos, Hugo's serves vegan and gluten free soft serve and churros. The soft-serve style frozen dessert, named Frozato, comes in chocolate, vanilla or swirl. The churros are served warm and sprinkled with cinnamon sugar.
Hugo's Tacos is located at 3300 Glendale Blvd. in Atwater Village
5. Flore Vegan Cuisine
Flore Vegan Cuisine has a menu with vegan options can that satisfy the tastebuds of even the staunchest carnivores. Aside from the variety of entrees it has to offer, the Silver Lake based establishment also serves desserts from it's sizable menu. Raw strawberry cheesecake or key lime pie are go-tos, along with the matcha cacao and lemon poppy cupcakes.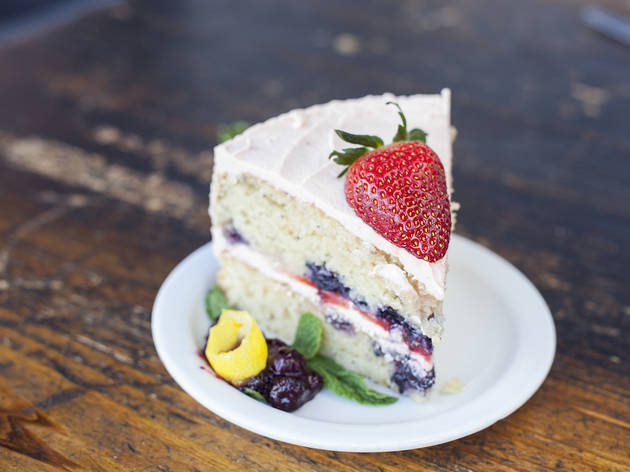 Flore Vegan Cuisine is located at 3818 Sunset Blvd. in Silver Lake